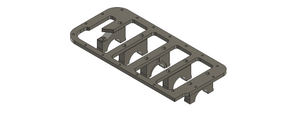 Billet main cap and girdle kit for the Toyota 2TC 3TC
This is the ultimate kit for any high hp 2TC 3TC. Main caps are made from billet steel for superior strength and features a 3/8" billet steel girdle designed to tie the main caps and engine block together creating a bulletproof bottom end. 
Kit is made to order please allow 4-6 weeks for delivery. 
Main caps do require line bore for installation and some machine work my be necessary for girdle installation.